A journey through the Italian/Austrian Alps across 12 magnificent mountain passes, picturesque lakes, cities steeped in history and breathtaking scenery.
For the motorcycle enthusiast, an experience of a life time, combining history, passion, adrenalin …And of course …shopping! We cater for groups of up to 6 motorcycles or a maximum of 12 people (including pillions)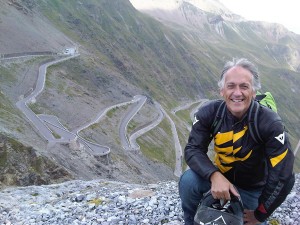 The tours include
A visit to the Dainese factory
Tour of Ducati/Kawasaki Verona
Early bird booking may include the Misano Moto GP
Bed & Breakfast
Escort vehicle
Airport Pick Up/Transfer
Tour durations driven by the events of the time ….plus much more
The price includes: Return Airfare to Venice/Milano 10 nights accommodation Motorcycle Rental for 7 days All you will need to outlay are fuel, food and shopping costs!
Come and join me on a fantastic adventure: – Sandro –(+61) 0439 030 832
2019 Motorcycle Tour Dates
If you book and pay by the 19th of October 2018 for one of the 2019 tours you will receive a 3 day Lukey Heights Grand Stand ticket for this years MotoGP at Phillip Island
Thursday 6th June to Thursday 20th June     $8365.00 ($7184 pillion)
Thursday 27th June  to Thursday 11th July     $7845.00 ($6647 pillion)
Thursday 29th August to Thursday 12th September      $7725 ($6530 pillion)   or stay for the MotoGP
Friday Sept – 13th to Tuesday 17th September for  Misano MotoGP  $9350.00 MGP ($8105.00 with MGP )
Thursday 19th September to Thursday 3rd October     $7425.00  ($6230 pillion)
Price includes: return airfare. 14 nights' accommodation (bed & breakfast) 3 dinners , airport pickup and transfer, escort vehicle and motorcycle hire . You just have to bring shopping/drinking money and a party attitude.

Misano MotoGp Price includes: 19 nights' accommodation (bed & breakfast – twin share) 4 dinners ,  return airfare, airport pickup and transfer, escort vehicle, motorcycle hire & Grandstand MotoGP Ticket .